Focus on strategies and tools that change the way of understanding marketing actions. When innovation drives revenue growth of a business.
It's no secret, the digital revolution has arrived. To label the most daring frontiers of marketing, online communication or e-commerce as "new" is rhetorical, especially if we look at our current reality. Today, in a slightly shy way, we begin to record the small trend that leads us to discuss the responsibilities of companies in the field of Digital Transformation. Here is how the Vending Industry enters the Digital era.
We are talking about the use of technologies (and strategies) in all (or almost all) of business processes. In essence, today, not using eCommerce, for some companies, could mean giving up a piece of market in continuous growth. Meanwhile, for others, not implementing a remarketing strategy or efficient communication systems (like DEM, Newsletters and other) means to not buildup customer loyalty and does nothing (or almost nothing) to find new clients.
Changes in the market
In general, setting aside singular examples, placing the client at the center of each step of the Digital Transformation process of a business promoting integration between the online and offline world is an irreversible process; with all due respect to the reactionary molds that still circulate today.Many of you would agree that the maturity of the digital world has reached a level that "forces us" to follow a more than consolidated growth path. The data that we have available speaks clearly, the Vending industry needs to enter in the Digital age

In fact, in 2016 there was a growth in the digital market, confirmed in anticipation for the period from 2017 to 2019. In this sense, it is also good to explain what is meant by the digital market, or better, what is understood within this expression: we are talking about four macro areas divided into Devices and systems, Software and on-site solutions, Services ICT and online advertising.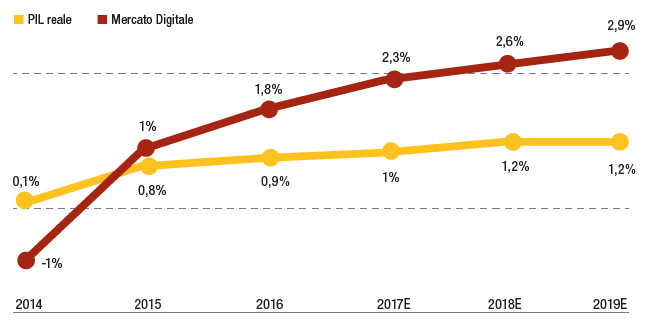 As we can see from the above chart, growth rates gradually increase, starting from 2.3% expected for 2017 to reach 2.9% in 2019. Emphasizing the fact that, starting from 2015, the gap between market growth rates and National GDP growth is expected to increase significantly until 2019, ie when the difference between one and the other will record 1.7 percentage points.
The challenge of Vending
The of Vending in the Digital age, as in many other businesses in other industries, is to confront its fragmentary nature and the complexity that the digital world offers us. But, the first step, in our opinion, is to fill a certain gap in digital culture (digital divide, for the English speakers) that separates us from international (and, in part, national) competitors. The line to follow which registers, in time, a certain lack of "budget culture" from to be allocated to the Vending industry in the Digital era.
There are already some good standardized practices that allow Vending companies to gain visibility and increase prospecting for their products and services offered. Remembering that each first step isn't possible without the presence of a planned budget which is set to include the investment of digital marketing. If you would like to learn more, don't miss our article which provides information on digital solutions which can be immediately applied to your world of vending. Or visit the White Rabbit site, a digital marketing omni-channel platform that allows you to reach your online business goals.